For the 3rd year, AVA-Berlin sponsored a film at the ONE WORLD BERLIN FILM FESTIVAL:  GRANITO: HOW TO NAIL A DICTATOR (USA 2010), directed by Pamela Yates at ARSENAL Kino followed by a Q and A moderated by Anjana Shrivastava of AVA- Berlin (left) with Director Pamela Yates (middle) and Producer Paco De Onis (right).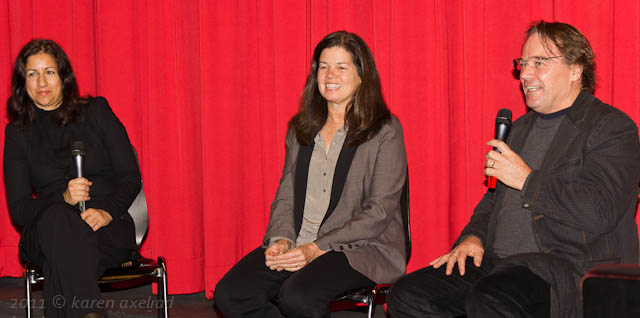 AVA's Carolyn Prescott exhibited in the Arsenal lobby a series of 14 paintings on American-sponsored regime change, including one that featured Guatemala. These small, narrative paintings make use of the traditional genre of Latin American retablos "to envision and make concrete historical events that seem distant and abstract."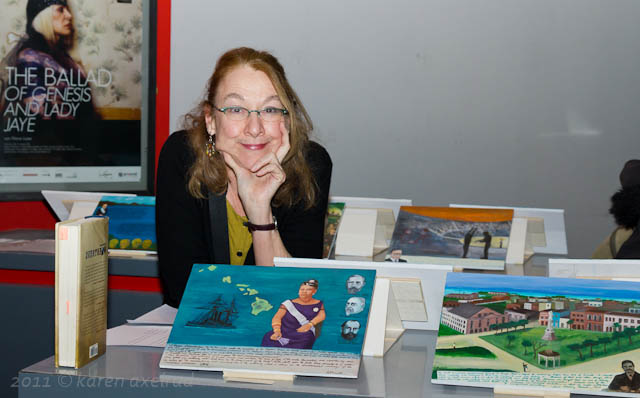 More photos here.  GRANITO deals with the Guatemalen massacres of the 1980s.
"Part political thriller, part memoir, Yates transports us back in time through a riveting, haunting tale of genocide and returns to the present with a cast of characters joined by destiny and the quest to bring a malevolent dictator to justice." In his review of the Human Rights Watch Film Festival in New York City this past June, Stephen Holden of the New York Times writes: "At least one film, the documentary Granito: How to Nail a Dictator, directed by Pamela Yates, Peter Kinoy and Paco de Onis, doesn't simply relate history; it is also part of history. In the early 1980s, for her documentary When the Mountains Tremble, Ms. Yates shot the only known footage of the Guatemalan Army carrying out mass killings of indigenous people. Twenty-five years later her footage was used as forensic evidence in a war crimes trial of the military dictatorship of Gen. Efraín Ríos Montt."